Behind the soap
Hello from long-time islanders, Theresa Murphy and David Harold. We got out of the gas and plumbing business a while back and are now the artisanal soap makers (along with our niece, Michelle) behind Waiheke Soap Company.
When not working as a nurse, our niece Michelle enjoys being involved with all aspects of the soap-making process. She is an all-round go getter who helps out and brings her love to what is a family business: sourcing products, making soap and, of course, helping to wrap product when the pressure is on to supply orders. A fantastic support person and overall good sort!
David enjoys putting on his engineer's hat and coming up with ways to streamline the crafting processes. He has made a soap cutter using various bits of wood from around the farm and a selection of recycled guitar strings. Soap cutting is much more fun now as you can almost play a tune while cutting!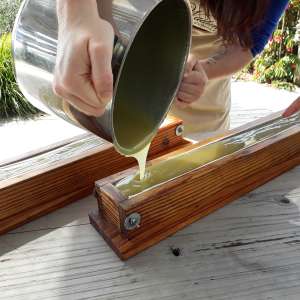 We enjoy the whole soap making experience and find it really fun! To paint a picture in words of the crafting process: We make our artisanal soap bars using what is known as the 'cold-process' method. Once poured into the wooden box moulds, the long uncut rectangles of soap rest for 48 hours before we un-mould and cut the product into bars. But wait (!) that's not the end of the story; the soap is then air-cured in a well-ventilated area for a minimum of 4 to 6 weeks before it is ready for shipping and sale. This ensures that moisture has evaporated from our product, increasing the hardness of the soap, giving it a longer life in your soap dish.
Before we can ship our handcrafted soap bars out to you, the customer, they are all individually hand wrapped by us, with each crisply labelled package topped with a piece of native paua shell. This could be the most satisfying part of the process, we find it quite therapeutic and relaxing!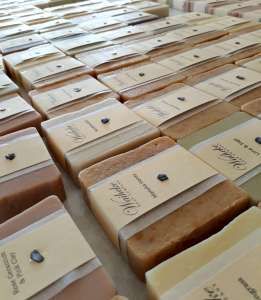 We particularly enjoy going to the local Saturday morning market in Ostend (weather permitting). This is a great platform to launch new recipes and gauge people's reactions to our product. Soap is very tactile: visually appealing and of course, smells great! We encourage customers to pick the soap up to feel it and to smell the beautiful aromas. Some say that our artisanal soap bars are almost good enough to eat!
When not soaping, we may be out on the kayaks, swimming at the local beaches, fishing or walking the tracks with our faithful hounds, Riley & Louie the Blue Heelers.
Te Matuku Bay is the home of Waiheke Soap Company

We love living in our forever place on our beautiful island here overlooking Te Matuku Bay Marine Reserve, which locals fondly refer to as being on the 'bottom end' of Waiheke Island. Hey, we're still only 22km from the bustling Matiatia ferry terminal to the west (and 42km from Auckland's CBD), but life rolls at an entirely different pace out here on the far-flung south east coast of Waiheke in the Hauraki Gulf. (Look for our bay on the 'front leg' of the island, which, it has been noted, looks like a West Highland terrier when seen in the satellite view of Google maps.)

We are blessed to be living in a caring and supportive community, with our wonderful neighbours and fellow 'bottom enders'. Our animal companions include Riley & Louie the blue heelers, and Albie & Rosie our miniature horses. Along with this crew are plenty of Orpington chickens (most of our girls have names) and Appleyard ducks.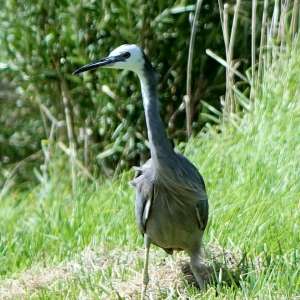 We started with a bare piece of land twenty four years ago now, in 1999. Our main focus has been to restore the land by planting trees and fertilising the soil to support the growing of nutrient-dense food. To that end, we've planted over 3,000 native trees as shelter belts. We've also planted numerous fruit trees and are the proud owners of an established olive grove of 230 trees, comprised mainly of Frantoio and Koroneiki varieties.
Waiheke Island is officially free from possums but we are committed to ongoing pest control using A24 traps and bait stations to trap rodents and stoats. We are working in tandem with the Hauraki Gulf Conservation Trust towards their goal of creating a 'predator-free Waiheke'. We also have an ongoing weed management programme to further encourage an increase in our native bird population. Since 2013 we have worked hard to develop food forests on our land based on permaculture design principles, which has proved very rewarding! Our free range chickens and ducks help out in this regard, by roaming through the property, naturally controlling the pests in the food forests. For this and for everything else, we are grateful!
Visit the Te Matuku Grove site
Our Olive Oil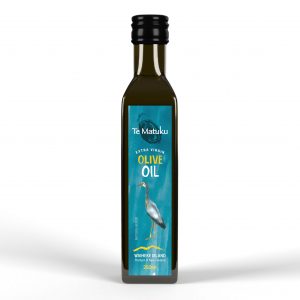 Our Extra Virgin Olive Oil is 100% natural, harvested by hand and pressed within a few hours of picking. Made entirely from the olive pressings without using heat or chemicals right here on Waiheke Island…
Note about our ingredients
We select only the best quality natural ingredients for our soap including high grade pure essential oils. Our packaging is printed on 100% recycled paper, coloured with soluble vegetable dyes and our gift boxes are unbleached.
In keeping with our social responsibility, our palm oil supplier is a member of the Roundtable on Sustainable Palm Oil (RSPO), co-founded by the World Wildlife Fund, an organization that supports sustainable palm oil production. For more information see their website here.
Your soap makers on Waiheke Island,
Theresa, David and Michelle